Introduction
The Sonic™ Message Manager is an application aimed at replacing the JMS Test Client provided with Sonic™ MQ for general use. It will not support the most advanced features of the JMS Test Client, but will provide other features that the JMS Test Client lacks.
Features
Automatically discovers brokers in the connected Sonic™ Domain
Lists queues on the selected broker to prevent needless typing
Delete all message from a queue
Deleting messages anywhere on a queue
Drag (multiple) messages from one queue to another
Send messages by dragging files on to a queue
Send one message multiple times
Set JMSCorrelationID and JMSReplyTo on outgoing messages
Set custom Header Properties on test message
Copy/drag a message part to another queue or a program
Re-uses connections from the Sonic™ Management Console
Displays every part of a multi-part message separately
Includes hex-viewer for BytesMessages
Screenshots
The main screen for working with messages.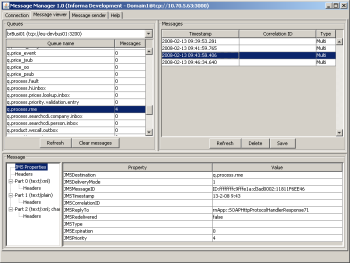 Legalese
Sonic™ Message Manager is not supported, endorsed by or affiliated with Aurea Software in any way. Do not contact Aurea Software with questions or remarks. Instead, create an issue on Bitbucket.
Sonic™ is a trademark of Aurea Software.